Our People
Our greatest asset in delivering exceptional commercial landscaping is our people.
Through extensive recruiting and screening programs, we attract reliable employees. We seek individuals with a strong landscape or civil engineering background, and appropriate formal education and / or training in the industry.
We retain quality employees and provide ongoing training and development programs.
The result is a workforce that is qualified, reliable, and excited to bring you exceptional service.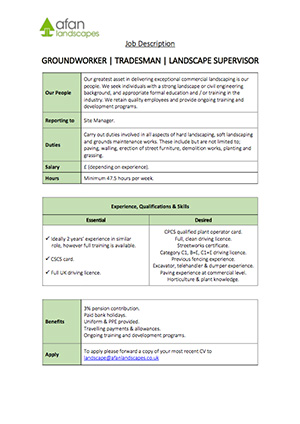 View Job Description
Current Vacancies
Ground Worker
Tradesman
Landscape Supervisor
Apply
To apply please forward a copy of your most recent CV to:
landscape@afanlandscapes.co.uk